Supporting the EPA WaterSense® "Fix A Leak Week"
The Environmental Protection Agency (EPA) and WaterSense® have established "Fix a Leak Week" which is an annual event celebrated in March. This year, we celebrate it on March 16-20, 2015. This event was established to improve water efficiency and raise awareness. Americans are becoming more aware of the smart use of our water resources by finding more water efficient fixes, uses and resources for future generations. This week long event of "Fix a Leak Week" is a time Americans check their household fixtures and irrigation systems for leaks. Water is essential to the survival of Earth. Only one percent of the water on the planet is available for human use. Salt water and fresh water frozen in polar caps are not available for human consumption and some water sources are not available for human access or use. It is time we tune into our own water use.
To begin, an easy way to understand our own water use is to take a look at our own water bills. Be sure to review each monthly amount due as well as the monthly amounts of water used. Spend some time getting to understand your water bills and seasonal activity. Now, for this week, take some time to investigate your households plumbing fixtures and irrigation systems for leaks. Here are a few of our "Fix A Leak Week" tips, fixes and examine tricks.
March 16 Post:
March 17 Post:
March 18 Post:
March 19 Post:
March 20 Post:
All the "Fix a Leak" materials we have sited above were retrieved from The EPA WaterSense (http://www.epa.gov/watersense/our_water/fix_a_leak.html). Be sure to take some time to visit their informative website.
---
February 2015
Do You Know Your Power?
Special Guest Blog By: Dominique Smith at USGBC-LA
Every month we open a bill from our energy company. Our power is measured in kWh and dollars. Few of us have the time or the tools to analyze this in detail...until now. There's an app for that!
I am participating in the Chai Energy Pilot Program, and my Chai (Gateway in picture below) arrived in the mail last week. It is connected to my Internet router and communicates with my smart meter. It relays energy use information to my iPhone on every appliance that is plugged in and turned on in the house. It doesn't stop there, my Chai also lets me know that the fridge door was left open on accident. Then, it lets me know that a new higher efficiency fridge would save me $5 dollars a month and there's a rebate that I can use through my energy provider to get it.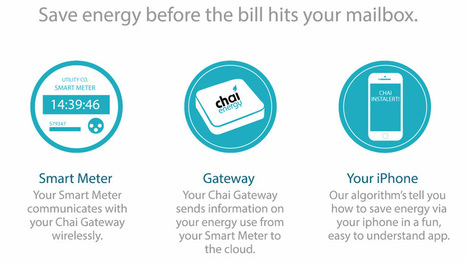 The Chai Energy Pilot Program has major potential to change people's energy use habits at home. Having a predictable energy bill and real-time use data is a game changer.
Here is a video about Chai Energy
Knowledge is power!
---
January 2015
5 Tips for Helathier Indoor Living Space
Use Natural Cooling

Take Advantage of Natural Lighting

Solar Lighting Tubes
Open Blinds / Shutters / Drapes
Skylights

Install Hydronic In-Floor or Baseboard Heat

Radiant heat provides a steady, even heat and promotes healthier indoor air quality

Obtain a Photovoltaic (PV / Solar) Study for your home

Find out the sun's effects on your home and how to make use of it

Look into installing Solar Panels

There are now PV system options that are more affordable
Rebates may be available

Use Passive Solar Design

Improve Indoor Air Quality

Install an Air Purification System
Keep a Healthy Level of Humiditiy - Dehumidify / Air Home
Clean Floors Often (mopping and vacuuming with safe products)

Remove Shoes at Front Door or Put a Mat at Entry Doors
Purchase Healthy Indoor Plants
---