Green Builder Media's Free Homeowner's Handbook
Click on the graphic below and download Green Builder Media's updated FREE HOMEOWNER'S HANDBOOK: a reference guide to green building. Organized into 12 easy-to-follow categories, the book explains why achieving sustainability in design and construction involves more than simply selecting the right products. Be sure to download your free copy today!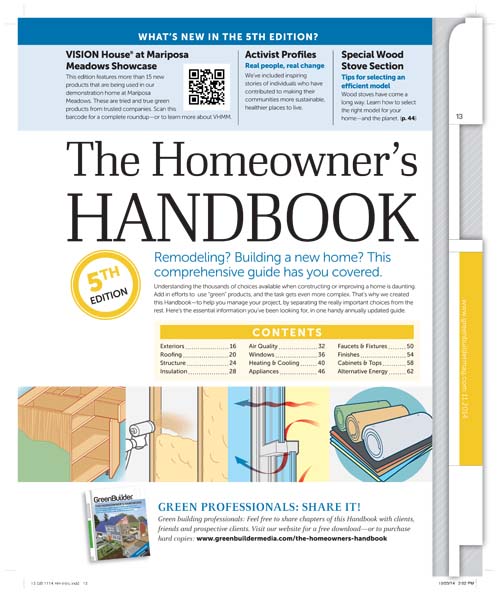 ---
Preventing EMF Exposure in Your Home
What are EMFs? EMFs are invisible Electromagnetic Fields that are generated from electrical appliances. Wherever there is electricity, EMF exists. A few examples are fluorescent lights, Wi-Fi, computers, battery chargers, smart meters, and plasma TVs. The EMFs have been said to produce radiation that interferes with the electrical system of your body. EMFs are classified as "Dirty Technology". Today there is an abundant amount of electronic technologies all around us that we use on a daily basis. Appliances in the home alone account for 30% of the average household's energy usage. This could be effecting the healthiness of our homes, schools, offices, cars, mind, and body. Some studies have been conducted that say high amounts of EMFs could cause health problems and side effects, from fatigue and anxiety to brain tumors to cancer. Building a healthier home is becoming more and more important. There are some ways we can prevent exposure:
One solution to preventing EMF exposure - reducding the amount of Wi-Fi we use and return to some cord connections. Wi-Fi Routers provide 24/7 continual wireless transmission. When possible, use a wired alternative with Ethernet cables to connect to your computers. This may be difficult to your current lifestyle but you can start with small adjustments. Try disconnecting Wi-Fi when you are at home sitting at your desk and just plug in your internet connection directly into your computer and turn the Wi-Fi off.
Almost all cell phones today operate 24/7 with continual Wi-Fi connection. When you are not going to use your cell phone, when possible, try to turn it off or switch it to "Airplane" or "Flight" mode. Another idea is to forward your cell phone to a landline whenever possible.
When possible, try avoiding Bluetooth connections directly to the ear.
Examine your bedroom and/or other bedrooms in your home. Give the body a rest when sleeping.

Try turning off and unplugging everything electrical in your sleeping area, including your computer, Wi-Fi, cell and portable phones.
Make sure your bed is at least 3-6 feet from all electrical outlets.
Make sure clocks and phones are not directly next to your head when sleeping.
Be sure to turn off all possible fuses at night.
If you are building a new home or renovating, when constructing the walls you can build the wires inside pipes, which will virtually eliminate the fields that are generated in the room when the current runs through the wire. Another possibility is if the walls are being rebuilt you can install a radiant barrier, which is a tough type of aluminum foil that will also very effectively screen out the EMF. Be sure to work with your building team to develop pre-construction plans and buildable healthy home solutions.
Another item to look at is the actual bed frame. Most United State beds consist of metal springs, bed pads, and/or frames. Be sure to find a bed that is electrically non-conductive (free of metal).
Other alternatives are to get EMF filters and/or blockers for your outlets. Additionally, plug-in switch tap, turns any outlet into a switched outlet. Belkin and GE make 3 prong grounded outlet shut-off switch products.
When looking into building a new home, start with doing your own preliminary site survey. Review the address to see if the home is going to be by high impact electrical facilitates or radio frequency sources. Visit http://www.Antennasearch.com. When developing plans, discuss your concerns for low EMF practices. Discuss the key elements of types of lines, shielding, prevention and locations. Designing your outlets to be in specific locations is important to your health.
When it comes to appliance or desk electrical items, try to substitute electrically operated devices with manual devices as much as possible, for example pencil sharpeners and can openers.
When electrical items are on and/or operating it is important not to hover over them. Allowing more space between you and the magnetic field exposure lessens with an increase in distance from the electric source.
It is possible to purchase a dirty electricity meter reader (Trifield and Stetzerizer) but it may be best to hire a consultant who specializes in Dirty Electricity and or EMF prevention measures.

Here are two sample diagrams charting EMF exposure:

Practical Steps to Reducing Your EMF Exposure: http://www.emfwise.com/precautions.php

Further Reading: Recommended Books About EMF Exposure and Prevention:
Zapped: Why Your Cell Phone Shouldn't Be Your Alarm Clock and 1,268 Ways to Outsmart the Hazards of Electronic Pollution by Ann Louise Gittleman
Living Safely with Electromagnetic Radiation: A Complete Guide for Protecting Your Health by Jim Waugh
Prescriptions for a Healthy House, 3rd Edition: A Practical Guide for Architects, Builders & Homeowners by Paula Baker-Laporte Chemical and Electrical Hypersensitivity: A Sufferer's' Memoir by Jerry Evans
Toxic Electricity by Steven Magee
---
Improving the Indoor Air Quality of Your Home
The infographic below displays a number of ways to improve the indoor air quality of your home. We have also listed a few websites below the infographic to help you strategize more ways to improve your indoor air quality. Feel free to share some of your ideas with us on our Facebook Page!
---
Benefits of Deconstruction VS Demolition
Many people picture demolition as a giant wrecking ball smashing into a building. While this concept may be true, demolition is the process of demolishing or disposing of a structure. After a structure is demolished, the rubbish is usually taken to a landfill. Another option people have when tearing down a building is deconstruction. Deconstruction is the careful disassembling and reclaiming of a structure's' reusable materials and lumber. In other words, the home is taken apart piece by piece and materials such as millwork, piping, doors, windows, and sinks are salvaged for donations and/or reuse for other purposes. Deconstruction is definitely a more environmentally friendly approach than demolition. Deconstruction also enables the owner to receive tax credits for salvaged items and cash back for donated items. The up-front cost of deconstruction is usually higher than demolition but deconstruction tends to pay off and sometimes yield savings at the end of a project.

We always favor deconstruction over demolition but be sure to evaluate your personal circumstance before finalizing your decision between the two. The first thing you should do is obtain a free detailed estimation of deconstructing your home which should include the material/lumber salvage/donation values and the estimated time it will take to complete the entire deconstruction process. The deconstruction process tends to consume more time then demolition. Demolition could take a few days while deconstruction could add a week(s) to a project's schedule (usually not more than 3 weeks). Every situation varies and there are a number of different possibilities. The type of structure being deconstructed impacts the financial value. If it is an older and run down structure, many of the materials in the home may not be able to be salvaged or donated. If this is the case, you would not recoup the costs or time incurred by carefully taking the home apart piece by piece. Another possibility of deconstructing could be only a small percentage of the home is salvagable while another percentage of the home could be demolished.

There are no short cuts to being more environmentally friendly. Inviting volunteers to help you deconstruct an old building is not recommended. The IRS makes it crystal clear that "trade for service" is not a donation. Professionals need to establish that your donation is salvaged safely, with minimal damage and holds a reusable value. Do not just assume you know which process is best for you. Even if you are worried about the up-front cost of deconstruction, be sure to obtain a free deconstruction and demolition estimate from a trained, licensed and insured professional prior to finalizing your decision to proceed one way or another. Incentives and laws are constantly changing (some cities are discussing expediting permits for recycling activities) and there could always be an unforeseen opportunity or benefit.

Another environmentally friendly idea is to invite your landscape architect (or another outside design consultant) into the deconstruction process to find out if any materials could be repurposed for other new property use. A landscape architect could use old brick and/or concrete to create a unique bench, a planter bed, or something else creative. A historical garden element always adds character to a home.

Download a Useful Construction and Demolition Recycling Guide Here by LA City

Here is a recommended video to watch regarding deconstruction:

#green #environmental #deconstruction #demolition #demolish #eco #eco-friendly #repurpose #CAgreen #greenhome #customhome #customhomebuilder #greenbuilder #recycle
---
Home Energy and Safety Infographic
Click on Infographic to see larger image
To find out more information about Home Energy Savings and Safety, be sure to read:
---
LEED Certified Custom Homes
Building a custom home has many advantages, including the choice to build a more energy efficient home that is not only a more sustainable way of life but will also generate lower energy costs. Structure Home has built a number of energy efficient custom homes, including some that achieved ¹LEED certification. Currently, Structure Home has two more custom homes under construction in Brentwood that are LEED Registered, using US EPA ²WaterSense Certified fixtures, and ³EnergyStar appliances in each home.
In addition, both of the home locations have landscaping that is designed to save water: little to no turf will be used, drought-tolerant plants are going to be planted and low flow drip sprinklers will be installed. Here in Southern California water is a resource we need to conserve so landscaping that uses less water is one way to do this.
The water saving fixtures (WaterSense Certified) are going to be installed in many of the bathrooms. This means that every time you use the toilet, wash your hands or take a shower you are using less water. In addition, the bathrooms in each custom home, will come equipped with an Energy Star bathroom fan. This fan has a sensor that can tell how much moisture is in the air and turns on automatically. This fan brings in fresh air and regulates the humidity. Other energy efficiencies include: lighting fixtures being installed throughout the home that use less electricity, Energy Star Refrigerators, Energy Star Dishwashers and Energy Star clothes washers. These appliances are designed to use less electricity, gas and water.
Many materials that are normally used in construction contain toxic chemicals. These two custom homes, in Los Angeles, include paint on the walls, adhesive on trims, and moldings that are Low VOC, which means they contain much fewer toxins than most carpets and paint. Fewer toxins means cleaner air quality in the units.
Carbon Monoxide is a colorless, odorless, and tasteless gas that is highly toxic to humans and can be hard to detect. These two custom homes in Brentwood, plan to install a Carbon Monoxide monitor on each floor so if for some reason there is carbon Monoxide in the air, an alarm will go off. Take a look at the LEED Scorecards for each home below:
The first home, referred to above as: New England Traditional Custom Home, has a total building square footage of 6,244 square feet which includes a 1,189 square foot basement. Here are a few of the energy efficient statistics of this home:
45% of this home uses renewable energy
30% of the designed landscapes is softscape turf
58% of the installed plants are drought tolerant
75% of the waste that came from this project was diverted (recycled, reused, and re-purposed)
This home is 26.3% above the Title 24 requirements
The site is within .10 miles of Metro Route 2/302 with 52 daily weekday rides.
The second home, referred to above as: Traditional Coastal Custom Home, has a total building square footage of 5,253 on a 10,127 square foot lot. Here are a few of the energy efficient statistics of this home:
30% of the designed landscapes is softscape turf
70% of the installed plants are drought tolerant
75% of the waste that came from this project was diverted (recycled, reused, and re-purposed)
This home is 31.7% above the Title 24 requirements
The site is within .10 miles of Metro Route 2/302 with 52 daily weekday rides.
¹LEED stands for Leadership in Energy and Environmental Design. It is a Green Building Certification Program that recognizes eco-friendly building strategies and practices. There are four levels of certification: Certified, Silver, Gold and Platinum. The number of points a project earns, determines that certification level the project will receive.
²WaterSense labeled products are backed by independent, third–party testing and certification, and meet EPA's specifications for water efficiency and performance. By choosing the WaterSense Labeled products, you can expect saving on water bills while still having exceptional performance.
³EnergyStar labeled products are EPA government-backed energy efficient products and practices. They reduce greenhouse emissions and other pollutants caused by inefficient use of energy; as well as, offer savings on energy bills without sacrificing performance.
---
Earth Day
This is a special Earth Day posting. Earth Day is an annual event, celebrated on April 22nd. This is the 44th celebration of eco-friendliness. Here are five ways to celebrate today and year round:
Plant a tree
Recycle
Most of the LA population has a recycling container at their home. Items you can recycle curbside include: paper, cartons, metals, glass and plastics. For other items such as electronics or hazardous materials, there are monthly local recycling/SAFE Centers/collection events in your area. Be sure to visit your city's website for dates and locations.
Ride your bike or walk today instead of driving
Instead of driving your car to dinner or the store, try walking or riding your bike instead.
Find out how many calories you will burn riding your bike or walking to the store: http://www.healthstatus.com/calculate/cbc
Pick up trash outside
Bring one or two trash bags (one for recyclables and one for trash), napkins or tissue and/or hand wipes
Participate in Earth Day Activities and Events
There are a number of things you can do to celebrate Earth Day. Here is an infographic of other top ways to participate.
---
Fix-A-Leak Week
Today is the beginning of "Fix-A-Leak" Week. "Household leaks can waste more than 1 trillion gallons of water annually nationwide, so we're hunting down the drips during Fix a Leak Week." (EPA WaterSense). Fix-a-Leak Week begins today, March 17th and ends on March 21, 2014. This week, try to fix a leak in your home and/or a friend or family member's home.
We refer to EPA WaterSense' Website to find out:
How do you FIND A LEAK?
Take a look at your water usage during a colder month, such as January or February. If a family of four exceeds 12,000 gallons per month, there are serious leaks.
Check your water meter before and after a two-hour period when no water is being used. If the meter changes at all, you probably have a leak.
Identify toilet leaks by placing a drop of food coloring in the toilet tank. If any color shows up in the bowl after 15 minutes, you have a leak. (Be sure to flush immediately after the experiment to avoid staining the tank.)
Examine faucet gaskets and pipe fittings for any water on the outside of the pipe to check for surface leaks.
Watch The Regional Water Providers Consortium videos on detecting household leaks: http://www.conserveh2o.org/how-to-videos-water-conservation.
Once, you located a leak, how do you FIX A LEAK?
It is always best to contact a professional licensed plumber but if you are fixing it yourself, here are some places to find guidance:
Faucets: Visit the Do-It-Yourself Network's Step by Step Guide: http://www.diynetwork.com/how-to/how-to-repair-a-compression-faucet/index.html and/or YouTube's How to Fix a Faucet videos: https://www.youtube.com/watch?v=aGAUkiGfOq4
Showerheads: Make sure there is a tight connection between the pipe stem and your showerhead and verify there is piping tape (Teflon Tape) to secure the connection between the two.
Outdoors: Be sure to check that all sprinkler heads and lines are not damaged. Check your garden hose for leaks at the spigot. You may need to replace the connection to the spigot with a new nylon or rubber hose washer and/or piping tape.
Each day, we will be tweeting a fact and/or way to fix a leak. Be sure to follow us on Twitter, Facebook, and/or Google+.
---
2013 Title 24 Changes (California Building Energy Efficiency Standards)
Title 24 is a code that was set as a base line for California's Energy Efficiency standards for low-rise residential buildings. The standards were established in the seventies but the Title 24 code was put into place in 2008, requiring all new residential projects meet the rigorous guidelines in order to obtain approval.
Why?
The code was developed in an effort to protect California's energy future by reducing energy costs, increasing reliability and availability of electricity, improving building occupant comfort, and reducing the environmental impact each residence has on the state.
If you are not familiar with the code, you can read more online at Title 24's Educational Resource Center: http://www.energy.ca.gov/efficiency/educational_resources.html.
In 2013, changes were made to Title 24 standards that will go into effect on July 1, 2014. The new codes now require the use of a HERS Rater on new residential projects including residential home additions. We received a brief overview of the CEC 2013 Residential Standards from Title 24 Data Corp and feel it is important to share this information with our community. Please click the photo below to zoom in or click here to view the PDF document.
---
Healthy Home Workbook
As in all aspects of our building practices, we take our responsibility to you and to the community we all live in seriously. It is not enough to simply build a beautiful new home. We believe it is imperative that we build it responsibly. At Structure Home, this means a commitment to environmentally friendly products, the efficient use of resources, recycling, a paperless and sustainable organization and a consistent dedication to growth through advanced technology and to the conscious improvement of our carbon footprint.
Structure has assembled a summary workbook as a resource to illustrate and clarify how applying Health Sciences and Green Building Practices can improve your home and the environment. Within this informative workbook, you will also find some definitions and other resourceful websites. We felt that sharing this Healthy Home Workbook once again would be a smart and strong way to start the new year.
---