A Deeper Understanding of Healthy Home Design and Construction: Avoid Electromagnetic Fields
Special Guest Blog By: Oram Miller, BBEC, EMRS
Now that sustainable design is more prominent in building circles, deeper levels of knowledge on how to create healthier homes are emerging.
Europeans have known for decades that reducing electromagnetic fields, or EMFs, is just as integral to a healthy home as non-toxic paint. The building biology profession teaches this knowledge here and in Europe, where it is known as Bau-biologie. Courses and certification in the US and Canada are provided by the International Institute for Bau-biologie and Ecology (hbelc.org).
I am a practicing building biologist based in Los Angeles. Over seventy percent of my clients are EMF-sensitive, yet they represent just 3-5% of our country's population. However, up to one-third of all people using modern wireless devices experience symptoms related to their use and do not know it.
The FCC bases its safe exposure levels on thermal effects from outdated research, totally ignoring abundant research on biological effects at much lower levels. Research on the health effects of wireless devices is widely accepted in Europe and elsewhere. Countries outside the US that pay for the health care of their citizens are removing Wi-Fi from schools, day-care centers and hospitals at the same time that we are ramping up its use. They know that these technologies are like cigarettes in the 1960s. New communication technologies that avoid radio frequencies are being developed. See links to abundant research on these dangers at my website, www.createhealthyhomes.com.
We advise clients to reduce use, increase distance and favor hard-wired connections for telephones, Internet, media, security and HVAC needs. Faster, more reliable and more secure connections than with Wi-Fi are the result, and there is no effect on health. Always-transmitting Wi-Fi routers, cordless telephone base units, and baby monitors are like ashtrays with burning, lit cigarettes continuously filling the room with smoke, but the harmful radio frequencies are invisible and odorless.
As architects and builders, clients who are already sensitive to these fields or who are health conscious will ask you to help reduce them. For these people, my profession stands ready to assist you in building a house that avoids EMFs in the first place, along with low-toxicity from finishes and materials and strategies to avoid mold.
For the rest of your clients, they will want wireless for everything. They should still be advised about the risks of its use, and routers and Wi-Fi access points should be kept away from bedrooms and home offices where people sleep and sit and turned off at night.
Steps should also be taken to avoid other EMFs that are also harmful. Indeed, besides wireless devices, other EMFs need to be avoided by everyone. The US has no safe exposure guidelines for AC magnetic field exposure, and levels in the hundreds of millGauss are considered safe. Yet Switzerland has a safe exposure level of 10 mG, Israel's is 4 mG, and Sweden's safe level is 2 mG. What do these other countries know that we don't know?
Magnetic fields from wiring errors are present in up to one-third of homes. These are NEC violations missed by code inspectors. They can be avoided, tested for and repaired.
Modern grounding practices allow current to flow on unintended grounding paths, including metal water service supply pipes and incoming coaxial cable sheathing. These parallel paths allow return current to flow back to the neighborhood transformer that should all be on the neutral conductor of the electric utility drop service. This is all explained on my website and in electrician Karl Riley's excellent book, Tracing EMFs in Building Wiring, which we use as part of the curriculum for teaching our advanced EMF students.
Sleeping areas have excessive AC electric fields in most homes, preventing deep, rejuvenating Stage Four sleep and nighttime release of melatonin. We recommend metal-clad wiring with (hardwired) bedside controls to kill power to AC power cords plugged in within 6-8 feet of all beds while asleep. Insuring the avoidance of all types of EMFs around the bed is fundamental to our approach.
This represents a previously unknown level of health-promotion in your practice. Yet, just as with tobacco, asbestos and lead in gasoline in the past, EMFs and other building toxins are also becoming recognized as important health hazards worthy of being avoided in building design for health-conscious clients.
For more information, see Oram's website, www.createhealthyhomes.com.
---
March 2015
Supporting the EPA WaterSense® "Fix A Leak Week"
The Environmental Protection Agency (EPA) and WaterSense® have established "Fix a Leak Week" which is an annual event celebrated in March. This year, we celebrate it on March 16-20, 2015. This event was established to improve water efficiency and raise awareness. Americans are becoming more aware of the smart use of our water resources by finding more water efficient fixes, uses and resources for future generations. This week long event of "Fix a Leak Week" is a time Americans check their household fixtures and irrigation systems for leaks. Water is essential to the survival of Earth. Only one percent of the water on the planet is available for human use. Salt water and fresh water frozen in polar caps are not available for human consumption and some water sources are not available for human access or use. It is time we tune into our own water use.
To begin, an easy way to understand our own water use is to take a look at our own water bills. Be sure to review each monthly amount due as well as the monthly amounts of water used. Spend some time getting to understand your water bills and seasonal activity. Now, for this week, take some time to investigate your households plumbing fixtures and irrigation systems for leaks. Here are a few of our "Fix A Leak Week" tips, fixes and examine tricks.
March 16 Post:
March 17 Post:
March 18 Post:
March 19 Post:
March 20 Post:
All the "Fix a Leak" materials we have sited above were retrieved from The EPA WaterSense (http://www.epa.gov/watersense/our_water/fix_a_leak.html). Be sure to take some time to visit their informative website.
---
February 2015
Do You Know Your Power?
Special Guest Blog By: Dominique Smith at USGBC-LA
Every month we open a bill from our energy company. Our power is measured in kWh and dollars. Few of us have the time or the tools to analyze this in detail...until now. There's an app for that!
I am participating in the Chai Energy Pilot Program, and my Chai (Gateway in picture below) arrived in the mail last week. It is connected to my Internet router and communicates with my smart meter. It relays energy use information to my iPhone on every appliance that is plugged in and turned on in the house. It doesn't stop there, my Chai also lets me know that the fridge door was left open on accident. Then, it lets me know that a new higher efficiency fridge would save me $5 dollars a month and there's a rebate that I can use through my energy provider to get it.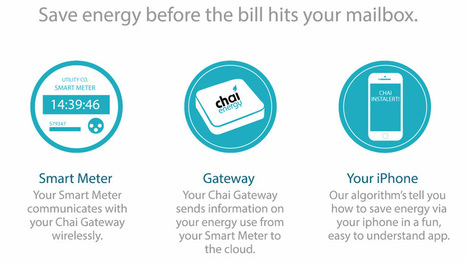 The Chai Energy Pilot Program has major potential to change people's energy use habits at home. Having a predictable energy bill and real-time use data is a game changer.
Here is a video about Chai Energy
Knowledge is power!
---
January 2015
5 Tips for Helathier Indoor Living Space
Use Natural Cooling

Take Advantage of Natural Lighting

Solar Lighting Tubes
Open Blinds / Shutters / Drapes
Skylights

Install Hydronic In-Floor or Baseboard Heat

Radiant heat provides a steady, even heat and promotes healthier indoor air quality

Obtain a Photovoltaic (PV / Solar) Study for your home

Find out the sun's effects on your home and how to make use of it

Look into installing Solar Panels

There are now PV system options that are more affordable
Rebates may be available

Use Passive Solar Design

Improve Indoor Air Quality

Install an Air Purification System
Keep a Healthy Level of Humiditiy - Dehumidify / Air Home
Clean Floors Often (mopping and vacuuming with safe products)

Remove Shoes at Front Door or Put a Mat at Entry Doors
Purchase Healthy Indoor Plants
---